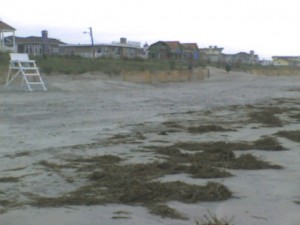 The ocean has an efficient method of removing both natural and man-made debris. 
The higher than average tides (from the full moon) and a rough ocean deposited marsh reeds on the beach overnight.  The beach raking machines were out early to clear the sand for a busy beach weekend!
During my morning walk, I picked up trash that washed in with the reeds- a few plastic sports drink bottles and Mylar balloons (a wake up call on the waste produced with everyday products).  The Borough and individual efforts are similar to cleaning before company arrives…we are proud of our seashore community and want it seen in the best light!
Enjoy the weekend 🙂