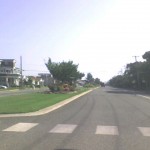 Posted on http://www.avalonboro.org
As of April 1st, 2010 the revised pedestrian safety law has been put into effect. New Jersey Statute 39:4-36 states: "The driver of a vehicle must stop and stay stopped for a pedestrian crossing the roadway within a marked crosswalk or within any unmarked crosswalk at an intersection." It is important to note that this revised law requires drivers to stop and stay stopped for pedestrians until they have exited the crosswalk.
New Jersey Statute 39:4-36 also states: "no pedestrian shall suddenly leave a curb or other place of safety and walk or run into the path of a vehicle which is so close that it is impossible for the driver to yield."
Confusion continues between pedestrians/drivers.  Please be careful!