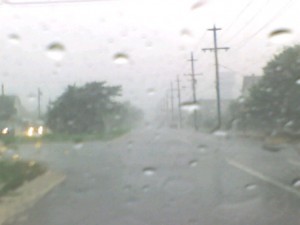 Seriously…thunderstorms at the shore have the same risks as those back in the "real world".  Just to clarify, here's a list of what NOT to do during a storm:
Ride your bike; jog along Dune Drive; walk on the beach; expect your open deck umbrella to withstand the high winds; walk your dog. 
Trash day adds to the fun- several recycling containers blew over- creating an obstacle course of bottles and cans 😉
Thankfully, the sun has returned- a beautiful evening.