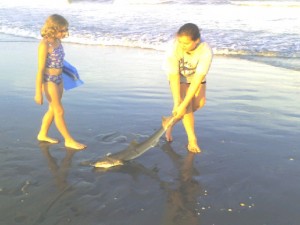 Watched this young lady reel in a 45″ sand shark last evening.  She was fishing with her grandfather, mother, and sisters- and very excited about her catch.
As the daughter of a surf fisherman, it brought back memories of time spent at the water's edge by my father's side.  His daughters didn't  have the same enthusiam – but he was a good sport teaching us to bait a hook, cast, and clean the fish (yuck). 
These girls took turns confidently holding the fish after the grandfather removed the hook.  And, then they set the sand shark free. 
A close up from the photo-op:   http://twitpic.com/20ubon