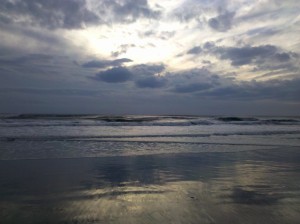 As I walk along the beach, I see the typical colorful sea shells, and an occasional piece of sea glass.
Every few blocks…a sun bleached plastic shovel hiding in the sand;  or, a random green GI Joe figure.
Also spotted?  Peach seeds. 
We are all responsible for this.  A warm summer day…sitting on a beach chair eating a Jersey peach or nectarine.  We finish, and with our heel, make a hole in the sand to properly "plant" the seed.  What are we thinking?  That there will be a big peach tree growing in the middle of the beach next summer??
Thinking of warm beach days ahead…