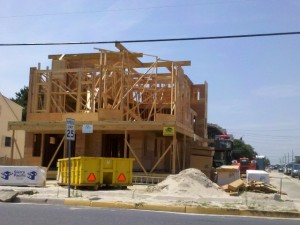 Property owners and tenants often ask if there are restrictions regarding construction in the summer months.
In the Borough of Avalon, construction is permitted 7 days a week, between 7am to 7pm.  Between May 15th and September 15th, no construction is permitted on Sundays. 
Today, I saw 2 demolition projects underway, and numerous job sites like the one pictured above.  It's a good sign for our local economy, yet can be frustrating for those in nearby homes.