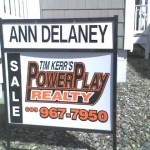 The summer months are traditionally slow for real estate closings at the shore.  That said, 19 sales  in Avalon and Stone Harbor NJ were recorded during the past 30 days: 1 commercial space, 8 condo/townhouse units, and 10 single family homes.  The overall median selling price was $725,000.
The condo/townhouse units sold ranged from $350,000 for a 2 bedroom condo in Stone Harbor, to $1,350,000 for a newer bay front side by side in Avalon.  The median selling price was $627,500.
The single family homes sold ranged from $370,000 for a "court" cottage in Stone Harbor, to $3,350,000 for a beach block home on an over-sized lot in Stone Harbor. The median selling price was $800,000.
In addition, there are 34 properties sale pending, with settlement scheduled in the near future. The median list price of the properties under contract is $1,324,500.
If you, or someone you know is interested in purchasing a property at the shore, I appreciate the opportunity to help!  ann@anndelaney.com