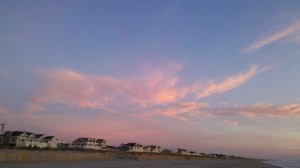 Have you noticed the brilliant colors just before sunrise, and after sunset?
The best views are by the water (beach or bay).  This morning, the clouds were a soft pink over the beach front homes.  So pretty!
The island events continue today- shopping, music, food, etc.  And, a comfortable night to watch the annual Christmas Parade:  north along Third Avenue from 104th Street to 96th Street, then right on 96th Street toward Second Avenue…starting at 6:30pm.