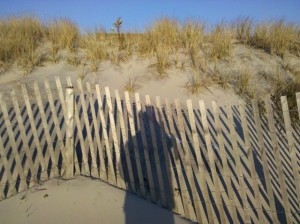 During the winter months, I often walk closer to the dune line for warmth.
With the recent stretch of mild days, I have ventured back to the water's edge.
An observation based on recent walks in both Avalon and Stone Harbor: there is fresh sand on our island beaches.  This is not scientific- I'm basing my statement on the fact that the "hard sand" by the water is actually quite soft.  I believe that the waves are depositing sand on the shores and it will become packed down over time.
The dunes and the beaches are all in great shape.  Avalon will shore up the section between 18th and 24th Street this winter (see previous post: https://anndelaney.com/2011/12/20/borrowing-sand/ ).  Otherwise, I am happy to report that our 7 miles of beach are stable, and in some areas, even wider than before.
By the way, 4:32pm moonrise later today.  Should be impressive!