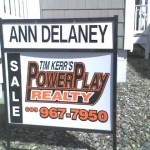 Market stats for the past 30 days- Avalon and Stone Harbor, NJ:
There were a total of 22 transactions- a solid number considering the holidays.  The overall median selling price was $815,000.
Condominium/townhouse units- 10 sold (8 in Avalon; 2 in Stone Harbor) ranging from a low of $160,000 for a one bedroom condo/hotel at the Beachcomber; to a high of $1,112,500 for a large side by side unit on bay.  The median selling price was $520,000.
There were 10 single family home sales (6 in Avalon; 4 in Stone Harbor), ranging from $430,000 for a cottage located over the 21st Street bridge; to $3,875,000 for an older ocean front home situated on a large lot on 99th Street.  The median selling price was $1,466,000.
In addition, one sale was classified as a "lot" - sold for $850,000.  A 70′ parcel  on 106th Street with an existing home to be torn down. 1/12/12 UPDATE: the rancher on 106th Street was moved today (rather than torn down).  Saw it being towed down the street!   And one commercial sale for $853,000- the structure that houses the Jay's on Third restaurant (real estate only).
There are 30 properties posted as sale pending, with settlement scheduled to occur within the next few months.   The median list price of those sale pending is $1,274,500.
Please let me know if you would like additional information. I appreciate your interest and the opportunity to help!  ann@anndelaney.com