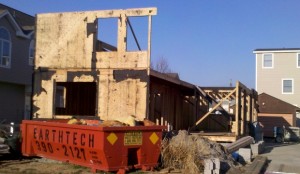 Have you noticed all of the building on the island?  Almost every street has a project underway; either an extensive renovation (as pictured here on 29th Street in Avalon), or new construction.
A surprising number are builder spec homes- a resurgence of market confidence that we haven't seen in a few years.  The rest are private builds for the current property owner.
It makes sense that "new" continues to dominate our shore real estate market.  Buyers of summer homes want easy living and low maintenance.  Plus the new homes offer top of the line amenities…and plenty of bathrooms!
The current inventory of new homes for sale range from $1,349,000 for a compact home on 83rd Street in Stone Harbor (undersized lot) to $6,995,000 for 6,000 square foot  home directly on the inlet in Avalon.  The median asking price is $2,497,000.  If you eliminate the more expensive land locations (bay and beach side) from the list, the median asking price is $1,895,000.