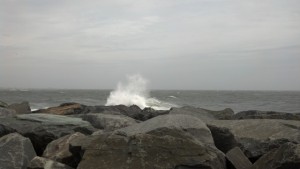 A stormy start for our Tuesday.  The winds are howling-  it sounds like winter…yet feels like summer!
And, the humidity is back- carried in on the strong sea breeze. 
The ocean swells in the inlet are impressive; causing the occasional wave to splash over the rock sea wall.
Beautiful September beach days are expected to return by later this week.