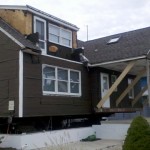 The proposed FEMA/New Jersey flood zones and elevation requirements are the topic of much discussion- even more so since Governor Christie ordered the guidelines be followed for re-construction of homes damaged by Sandy.
Although much of the island remains in the "A" zone for flood insurance purposes, the bayside areas of Avalon and Stone Harbor were reclassified as "V" zones.  To view the proposed flood zone and elevation requirement for your shore property, refer to the FEMA Map, and enter the local address in the box above the map (it defaults to Newark Airport).
According to statements made by FEMA representatives, municipalities will have the opportunity to debate the specific locations of the V zones, yet the elevation requirements will likely remain at the proposed levels.  Final approval of the maps may take a full year.
I have a better understanding of the value of  V zone construction requirements after recent conversations with 2 different bay front property owners.  Although they did not experience any water inside their homes, the force of the moving water jarred their foundation- causing structural issues inside the home (first noticed as major cracks along interior walls on the 2nd floor).  If the water had not met resistance and instead flowed under the homes, the damage may not have occurred.   The new construction code for V zone locations requires the structure to be on piers rather than a solid block foundation (the piers can be cosmetically covered with break away walls)- allowing water to flow freely under the elevated building.
If you have any questions regarding these changes, I am happy to answer to the best of my ability, or direct you to someone who can help.
P.S. Link to interesting article posted 2/28/13 in The Cape May County Herald