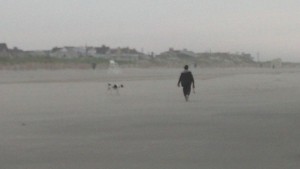 Sorry- I need to vent!
First the official rules:  In Avalon, dogs are not permitted on the beach between March 1st through September 30th.  In Stone Harbor, dogs are permitted between September 30th and June 1st any time during the day; and after June 1st, from 7pm through sunset.  In both communities, the dogs must be on a leash year round.
The reality: many owners use the open space of the beach as an opportunity to allow their dogs to run.
Unfortunately, a loose dog can be a nuisance (or worse) to others on the beach.
If a dog aggressively approaches me, barks at me, jumps on me, or chases me…it's not my fault (despite being told otherwise just this morning!).  And frankly, it's not even the dog's fault.  The dog owner has the responsibility to maintain control of their pet- preferably with the aid of a leash.
I don't want to hear "He's just saying hello", or "Don't worry, she won't bite", or "He's just a puppy", or today's classic line "It's because you are afraid".
I am nervous around dogs, so I purposely move out of their way while walking on the beach.  But, walkers/runners should not feel intimidated by dogs…or their owners.
End of rant- thanks!