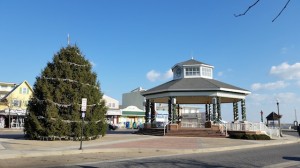 Always interesting to spend time in another beach community- especially in the off season.
We arrived to Rehoboth Beach Wednesday evening for a 2 night stay, and noticed many restaurants open AND filled with customers. On a bitter cold, mid-week night in November?
This was our third November/December visit in recent years; and I've been impressed each time to see restaurants and retail shops open (and thriving) year round.
I compared year round populations:  Rehoboth Beach 1556; Avalon 1334, and Stone Harbor 886.  Could it be that more of our year round residents "fly south" than those living in Rehoboth?  Or is it the chicken/egg dilemma: if more Avalon, Stone Harbor hotels and businesses stayed open, would we see more visitors?  Or, are the nearby shopping outlets (10 minutes outside of Rehoboth) the big draw?  And if so, do we really want excessive commercial development in our area?
There is no easy answer.  I feel for the new business owners who pledge to stay open year round…only to discover the lack of help, and customers come November.
As full time residents, we make an effort support the local businesses…it helps that I don't like to cook!
So, ride down soon. Walk the beach, shop, and enjoy a meal.  We all benefit from your business.