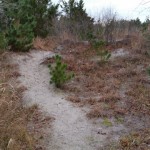 This is a tough time of year.  Many island business owners take a well deserved break, and others keep the lights on for the loyal year round patrons.
There are breakfast, lunch, and dinner options (not just Wawa!)
You can still buy a bottle of wine from Fred's, or a trash can from Seashore Ace.
And, several gift/clothing shops offer weekend hours.
See?  It's not THAT quiet!