Occasionally, I meet someone who can't understand how anyone could live on the island year round.  "Isn't is desolate?" (Yes, at times).  "And how about the wind?"  (Our house does rattle a bit in the winter)  "Is anything open?" (We always have Wawa!).
However...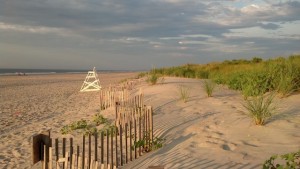 I see a different view each and every day as I walk over the beach path.
I have shared my beach walks with seals, snowy owls, and even a bald eagle.
I have walked along a snow and ice covered beach.
I feel the warmth of a rising sun reflecting off the ocean.
I find beautiful sea glass at the water's edge.
I have quietly squealed when surrounded by dolphins while ocean kayaking.
I have ducked from a great blue heron taking flight while kayaking in the bay.
I am able to breathe in fresh salt air year round.
I witness the seasonal change of colors of the marsh and dune grass.
I watch the full moon rise gracefully over the horizon.
I watch the colors of a setting sun fill the western sky.
Yes, I'm grateful to live here