A common question from prospective buyers:  "What is the cost for flood insurance?"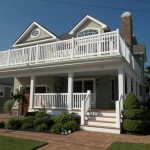 The variables:  elevation of the street and elevation of the structure (typically, the blocks closer to the beach have a higher elevation than those by the bay).
An elevation certificate is required for an insurance agent to quote a new policy.  The certificate (prepared by a surveyor) will state the elevation at the curb and the lowest floor of the structure, as well as details regarding vents.
Homes built prior to 1974 were not subject to the elevation requirements of FEMA, and may sit lower than required by the current code. This translates to a higher rate for flood insurance.
Newer homes and those elevated (see recent blog post) benefit from a more favorable rate.