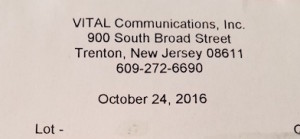 Stone Harbor property owners received a letter from VITAL Communications in the fall detailing the upcoming Borough wide revaluation.
Representatives from the company will be inspecting properties starting this winter and through the early summer (based on permission for access).
It's in the owner's best interest to allow the Vital Communications rep through the home so that accurate data can be posted.
Once the revaluation is complete, the data will be processed by the Borough Tax Assessor's office for the 2018/2019 tax year.
More information will be posted on the Borough of Stone Harbor's web site