Happy St. Patrick's Day!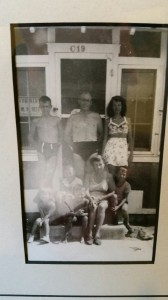 On my father's side: my grandmother was born in County Clare in the Republic of Ireland, and my grandfather grew up near Ballymena and the Antrim Coast in Northern Ireland.  A real mixed marriage!
They met and married in Philadelphia, and vacationed in Stone Harbor each summer while raising 6 children (pictured in front of their local rental cottage).
In the 1950s, my grandparents built a year round home in Avalon.  A family business brought the sons and daughters (including spouses and young children) from Philadelphia to Avalon shortly thereafter.
After visiting the beautiful windswept coast of Northern Ireland, I can totally understand my grandfather's love of the shore.
Sand in our shoes… and salt air in our lungs

Sláinte!
P.S.  Because immigration is a current topic: according to family legend, my grandfather arrived to the United States via Canada. And my grandmother used her older sister's ID to travel to the US. Her children didn't know her real name/age until she was older. Important to understand that our family history may be softened over time by nostalgia.
Pictures from our 2008 trip to Northern Ireland.