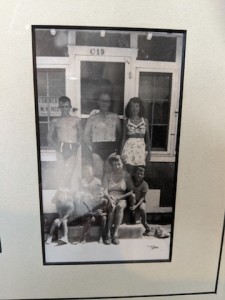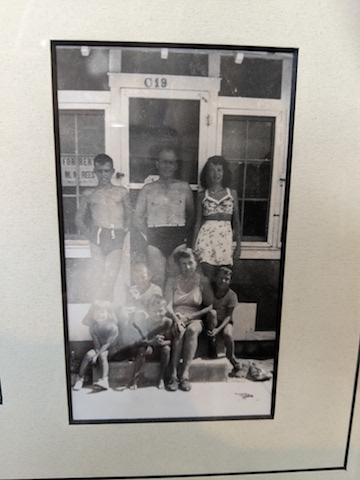 There are 4 alley way streets in Stone Harbor, commonly referred to as "the Courts".
Bower Court, Weber Court, and Stone Court are located between 108th and 111th Streets; and Linden Lane is situated between 84th and 85th Streets.
Charming bungalows line the streets, all built on parcels only slightly larger than the structures.
WAY back in the day, my father's family rented the summer cottage at C-19 Weber Court:  (click here for the past blog post).  

When the proposed zoning changes were discussed in July, I wrote the following letter to the Mayor and Borough Council:
Hello all.  Thank you for considering my thoughts regarding the proposed ordinance change for Court properties.
My husband and I purchased a cottage on Weber Court in 1997.  We were excited for our 536 square foot "project" and followed the guidelines as we completely renovated over the next few years.
We understood that the 2nd level space had to remain attic storage for fire safety reasons, and worked within the existing walls to update. 
The consistency and limitations of the zoning have been essential to maintain the look and value of the quaint cottages (as observed during my 40 years as a full time real estate agent on the island).
After 5 years of ownership, we sold our Weber Court cottage and purchased our current location nearby.
A comment I heard from someone who supports the zoning change: "Court owners should have the right to expand".  
If  that's the case, what is the purpose of zoning?  As property owners, we are all guided by limitations for square footage, height, or number of dwelling units in a particular location.
Property values are directly related to the zoning.  A Court owner pays less than someone purchasing an undersized lot on a numbered street.  And in turn, someone purchasing an undersized lot pays less than a buyer of a full size lot.  
Although I understand that the proposed changes are restrictive and will only apply to a limited number of Court property owners, I disagree with the premise of the change – especially because there will always be those owners who try to push the boundaries!
Thank you for your time.
Sincerely,
Ann Delaney