Local contractors have crews on their construction sites today to stabilize and secure the many new job starts.   Extra lumber has been added (cross bars) to the framing, and loose materials stored.   Hopefully the Porta Potties will be hauled away, too!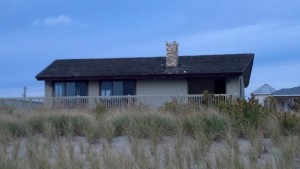 As I walked by this ocean front house in Stone Harbor, I thought it would be helpful to explain that its condition has nothing to do with Sandy.  A demolition sale took place last week and obviously, someone purchased the sliding glass door and much of the interior components.  The house is scheduled to be torn down this week.
Just didn't want this pre-demolition look to become labeled as a post-Sandy look!